Quick Update
: Doing good - fourth blogging day, "D" day.
Song Stuck In My Head:
"Psychotic Reaction" by Count Five. Cool retro, punk song.
Ah, another new feature guys! This one's going to be a fun, four-part deal. Every week, we'll be exploring the emergence of brand new genres out there. Ones that don't even have names yet! One week defining it, one week celebrating its greatest, and so on. Whether you're already a fan of the music or curious about it, here's the place….
And the lucky genre we'll be investigating first: DYNAMIC POP/ROCK (Dyna-Pop/Rock for shot). And why do I choose that word? Oh, I'll tell you why…. (and no, not just because it starts with "D").
dy•nam•ic [dī námmik]
adj
1. vigorous and purposeful: full of energy, enthusiasm, and a sense of purpose and able both to get things going and to get things done
Encarta ® World English Dictionary © & (P) 1998-2004 Microsoft Corporation. All rights reserved.
Cool definition, right?
We've been hearing a lot of calm yet exultant-sounding rock on the pop radio as of late. Before, mainstream rock was basically a vocal-focused approach with more production and less instruments. Nickelback, Shinedown, Puddle of Mudd, and Hoobastank might all have grittier rock songs, but it was when they toned it down they shared a chart with pop stars.
For every few club bopper and pop ballads we have, there's one token mainstream rock song. That's just how it works. Heck, even my favorite group Sick Puppies, post-grunge Australian darlings, had a little Top 40 moment with their song "Maybe".
It seems like a new type of mainstream has been taking over charts though - vibrant, techno-edged pop songs that still get a spot among modern rockers. They're soothing but dark. Mixed heavily but still raw-sounding. Foster the People got people's attention, and now the trend already led to the first "rock" song to make it to number one on the Billboard Hot 100, Fun.'s We Are Young.
There's certainly something appealing about this new music. It doesn't try too hard - no in-your-face, wannabe punk antics or fancy but unoriginal solos. It also comes off as just…relaxing. The way elevator or waiting room music should be. Quiet and dimmed down instruments with just the right amount of computer noise, and unique snippets of the guitar, base, drums, and piano. Even though a lot of the songs have the energy of anthems (
Entertainment Weekly
even compared Fun.'s song to Queen), they keep the rhythm low and simple.
Of course, the other undeniable appeal of Dynamic Pop/Rock is its murky core. Obviously Foster the People are another good example here. "Pumped Up Kicks" definitely got onto a lot of rock and pop lover's playlists thanks to its catchiness alone. Then all those listeners read the lyrics: a song about a kid with a gun and an agenda. The mindset of a high school shooter.
"But that's not right!" cried some more naïve music fans. "It sounds so happy!"
And there one has the complexity of Dyna-Pop/Rock. My Chemical Romance's dance-friendly rock album, Danger Days, hints strongly at topics like nuclear war, apocalypse, and government corruption. (Kid's band….?) have a music video of a baby who sees monsters. It's all very confounding. But then oh-so-addicting.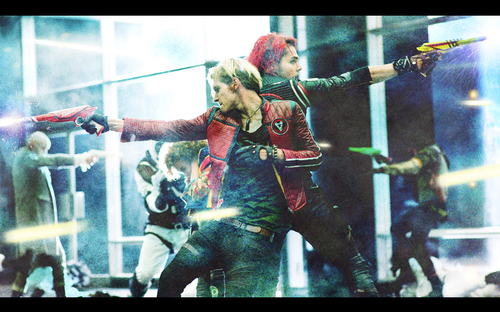 What songs are you thinking of right now? Are any your favorites? And tune in this time next week for a list of the Top Dynamic Pop/Rock out there.