Quick Update: Today's Letter R post is brought to you by the words "Rant" and "Rock". Oh by the way, no Q post because I officially hate that letter. Maybe I'll try it later.
Song Stuck In My Head: "Jar of Hearts" by Christina Perri now.
So it's finally happened. As of last night, American idol has cut ones of its "rock" contestants. Colton, who sang Paramore and Lady Gaga in a very pop/rock fashion and gained a colossal female fan base, was eliminated during his first time even at risk of elimination. Was Colton really "rock"? Or was he mainstream/pop like a few other winners of the show before him? Because with or without him, AI has been having its most "rock" season so far.
Not that American Idol could ever really pull off rock. The original version of the show IS called "Pop Idol". The whole point is to produce mainstream, pop singers. However, if they can be pop/(insert-other-genre-here) then even better. Mostly it's pop/country, like Carrie Underwood or last year's crooner Scotty McCreery. Or pop/soul, like Fantasia and Reuben Studdard. Or just pop/indie rock, like Kris Allen or David Cook.
However, sometimes AI, and other talent reality shows, play a mean trick: they have a Token Rock Kid. A rough-voiced singer, or two singers at most, who can rock the house, get a lot of fans, but never really…win. Last year we had James Durbin, who since placing in the top five has enjoyed a comfortable niche as a hard rock/post-punk singer. On the first season of the X Factor, there was Josh Kratchik, the lovable rock teddy bear, who came in second.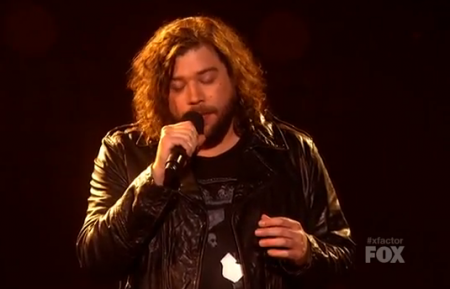 The point of the Token Rock Kid is bring a diversity and illusion of actual rock music to the show. Which would be okay, if one of them actually won. Not a cutesy indie rock singer, but a legit rock singer.
Now that we're in the Top 6 on Idol though, we do have a few rock singers still in the mix. The clear best: Phillip Phillips, the guitar-carrying blues kinda a guy who gets so into his songs that he gets crazy, rock star eyes. And the judges (and audience) know it. Most would think Phillip Phillips wouldn't belong on a show like AI. After all, the Voice has more his crowd. But then you see him preform, and see how important image and stage presence is to his act. So being on AI has helped him in its own way.
Phillip isn't alone though. Hanging on the bottom rung of the AI ladder right now is Elise, a singing veteran who went to college for vocal performance and has been in bands and opened for a few well-known figures. She sings with a rough, throaty wildness, and has been compared to Janis Joplin a few times. While Elise is easy to like and clearly talented, it's her clear insecurity and nerve issues that have yet to give her the fan base she deserves. But she is still a clear rock singer. She almost reminds me of last year's third place Idol - soul/jazz singer Haley Reinhart.
The other remaining contestants seem to be verging on rock. Young, diva singer Jessica Sanchez adds growls and screams to her performances. Skylar's spunky and mean country singing has led to her being the country's next "country/rock" singer. Soul singer, or Mantasia, Joshua has started to add a stage show to his beautiful singing.
In a way, American Idol is trying to get less pop, and more genre-heavy. Hey, if that means more guitar solos, fine by me.
So have you been watching AI? Who's your favorite on the show right now?