Quick Update
: A-Z blogging going…okay. I have the blogs getting there, but not completely on time. Grrraaaah. *angry noise translation: I need a job. Job = internet. Internet goood. No job baaaad.*
Song Stuck In My Head
: "First of the Year" by Skrillex. Yep. It's finally happened. I admit that I like a dubstep song. Somebody hit me. Now.
Okay, so if you're a writer sometimes your favorite scene to write - or at least look forward to writing - is the fight scenes. The climax where all that built-up tension peaks, the hounds are released, the punches are decked out, and hopefully your hero gets a Rocky moment or two.
Well for this month's Playlist of the Month, we'll be looking at some different types of fight/conflict songs to get the juices a'stirring when it comes to these sort of scenes. Basically it's split into three parts - the "Ticked Off" stage, the "Can't Take This Shiz No More Stage", and then your choice of "Harsh Words" stage or "Blood on the Floor" stage depending on if your fight scene is an argument/debate or battle to the death.
Let's get to it!
The
TICKED OFF
stage (a.k.a when your character and antagonists' tensions rise and they realize something is going to go down, sooner or later. If you have a variety of characters about to go into a fight scene, this might be their rebel call.)
"
Know Your Enemy
" by Green Day.
Alt. Rock
. The lyrics don't say fight, but the marching-band esque, renegade noise of the guitars make me think of teenagers pounding their chests and putting war paint on their faces.
"
Kiss With a Fist
" by Florence + the Machine.
Indie/Pop
. Most people say this song is actually about a sadomasochistic relationship, but the "hits" and "kicks" are more metaphors for a relationship on the rocks. Catchy song though.
"
What Do They Know Anyway
" by Mindless Self Indulgence.
Punk/Techno
. You know those days when you feel rejected? This techno-heavy song is your new anthem for the down days.
"
Thoughtless
" by Korn.
Nu Metal/Hard Rock
. With a music video featuring a boy tortured by bullies, then going sort of monster on them, this is a heavy song.
"
Shut Up and Let Me Go
" by the Ting Tings.
Indie/Dance Pop
. Now a more fun song telling a boy to "get off of me". Music video features an epic nerd fight scene.
"Uprising" by Muse.
Alt./Modern Rock
. We all remember this video - an evil teddy bear rampaging the city while Muse croons/rocks its rebel call?
The
CAN'T TAKE THIS SHIZ NO MORE
stage. This is when the tensions break, probably even when the first punch (metaphorical punch counts too) is thrown. Characters are realizing they can't take the conflict no more and seek confrontation.
"
Army of Me (Sucker Punch Remix)
" by Bjork ft. Skunk Anansie.
Rock/Electronic
. Featured on one of my favorite movies, Sucker Punch's, soundtrack, this remix adds enough bamph and badassery that it's the background music for a samurai-fighting scene.
"
My Way
" by Limp Bizkit.
Nu Metal/Rap
. With lyrics like "Just one more fight about your leadership" hinting at a showdown, this is the ultimate tension-builder rock/rap song.
"
Burn
" by Papa Roach.
Alt. Rock/Hard Rock
. Lovely dark guitars and lyrics in this song - you can hear the hurt, and hear the conflict.
"
Critical Acclaim
" by Avenged Sevenfold.
Heavy Metal/Rock
. Another fight-the-power song, but this metal tune has a lot more tension and evilness to it.
"
Cry For Help
" by Shinedown.
Metal/Hard Rock
. In case you want a pre-fight song with
Alice in Wonderland
references, here you go. Though it's probably the best of the bunch here.
"
Desolation Row (Bob Dylan cover)
"
by My Chemical Romance.
Post-Punk/Alt. Rock
. Who knew a Bob Dylan cover for the Watchmen could turn so wild, vicious, and out-of-control?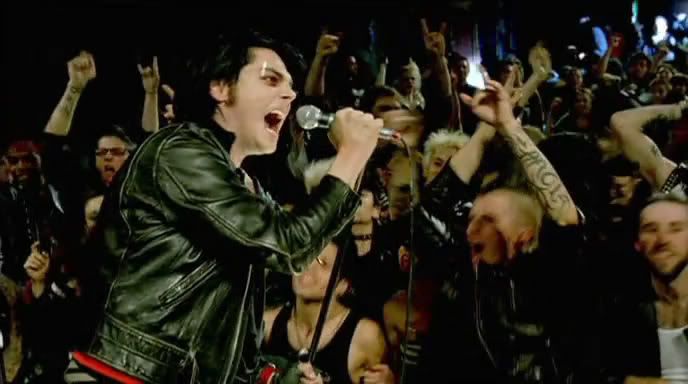 The
HARSH WORDS
stage. In case your characters don't actually get in a fight-fight, but still get into a heavy and emotionally scarring argument. Here are some examples of verbal fights in musical form.
"
Whataya Want From Me
" by Adam Lambert.
Pop/Ballad
. This once widely popular pop song gets a valid point across for conflicts…what DO you want from me?
"
Absolutely Nothing
" by Lily Allen.
Indie/Singer-Songwriter
. In case your character is the silent type (pssht. Like me.) when it comes to arguments…you got your song!
"
Blood-Splattered Sundress
" by Schoolyard Heroes.
Pop/Rock
. Love this song. It's a fun if dark look into the mind of two teenage girls who, as said in the lyrics, went from, "Enemies to friends/I've started hating you again."
"
Savior
" by Rise Against.
Alt. Rock/Hard Rock
. This song is pretty wordy, but on purpose. Beyond the addictive riff, and "I don't hate you" chant around the end, this is a very good argument between a couple who've finally come to blows.
The
BLOOD ON THE FLOOR
stage. Need I say more? This is when the conflict becomes nothing but "BAM!" "POW!" "KABAM!" "ZAP!" and all those other comic book noises.
"
Hit the Floor
" by Linkin Park.
Hard Rock/Nu Metal
. Linkin Park have a few fight songs, but this one is sharp and edgy…and right in the middle of the tension.
"
Click Click Boom
" by Saliva.
Rap/Hard Rock
. First off, yes that's the band's name. Second, this song has wrestling ring energy to it. Not quite Rocky, but still….
"
This Ain't A Scene It's an Arms Race
" by Fall Out Boy.
Pop/Rock
. Not heavy at all, but it's catchy and has a fight-scene vibe to it.
"
Highly Strung
" by Orianthi ft. Steve Vai.
Rock/Instrumental
. While there are no lyrics in this song, this Battle of the Guitar solos between one of my favorite female guitarists and my ALL-TIME favorite guitarist, Mr. Vai himself, really gets you in the mindset of a battle to the death. Besides, their guitar playing together is pure art.
"
Goin Down
" by Three Days Grace.
Alt. Rock/Hard Rock
. In most Three Days Grace songs, they're the emotionally damaged victim. In this upbeat but hard rock track, they're the ones who fought back. Nice transition.
"
Falling Down
" by Atreyu.
Alt. Rock/Hard Rock
. There's something very animated and ready-to-rumble about this hard rock tune. Don't believe me? The music video features a spoof of the rumble scene in the Outsiders.
My fave band, Sick Puppies, also happens to be the experts on fight/tension songs. So…
Ultimate Sick Puppies FIGHT, FIGHT! Songs
'Til Something Breaks
War
Survive
Anywhere But Here
and their ultimate hit…You're Going Down
Hope you enjoyed the songs. Feel free to leave suggestions - I'll add them!
Later! (Though I can say right now there will be no "G" post till Monday. But I will make it epic.)